TOGETHER WE
CREATE CHANGE
REAL COACHES.
UNDENIABLE EXPERIENCE.
Coaching is a two-way street, so we start by getting buy-in. We need to know that you are 100% committed because we are too.
Our alignment process gives us a snapshot of where you stand now and what it is you're trying to achieve. We fully integrate ourselves in your business through observations, in-depth discussions and visits.
No two Executives are exactly alike, which is why we develop fully customized strategic plans to help you achieve your goals. Our plans are marked by specific KPIs to measure your success and effectiveness.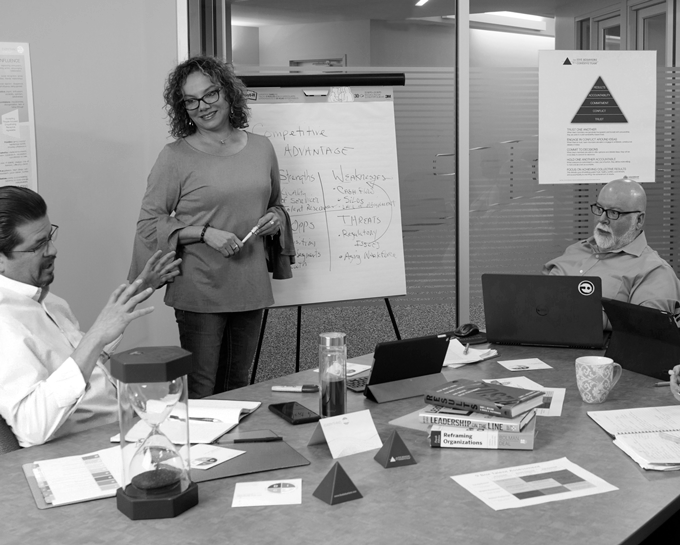 YOUR PARTNER,
FROM ALIGNMENT > EXECUTION.
While your business challenges are unique, we can relate because we've been in your shoes. Our LDI coaches understand what it's like to hit a plateau or the challenge you face getting everyone involved in strategy execution, we can better coach you to achieve your goals.
LDI constantly pushes us to set smart goals, have realistic expectations, structured processes, strategic planning in place, making sure the right people are in the right seats, constantly maintaining and feeding our culture, and making sure that we're on point.

CEO, California Computer Options
After three years, the ongoing changes have continued to bring great results!  LDI has continued to develop the company's new organizational structure, which included re-aligning our team's roles and responsibilities within the company.

CEO, The Hogan Company
LDI has helped us maintain a continuous stream of consciousness with everyone in our organization about continuing to look at and lean into our core culture.

CEO, Cucamonga Valley Medical Group